IITH, Dept. of Entrepreneurship in collaboration with Business Design Labs offers a unique action learning program on Business Model Innovation for Business Leaders, Entrepreneurs, Intrapreneurs, Sr. Design and Strategy Professionals.

The program aims to help participants identify opportunities, test and validate their growth potential.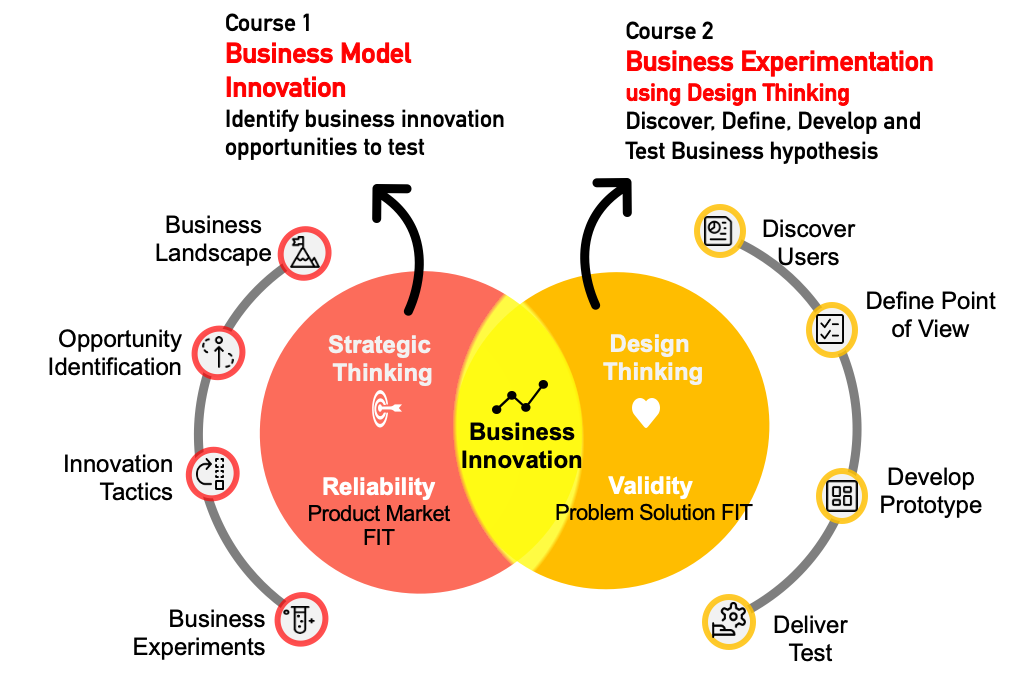 Program Summary
Last Day for Batch Admission Completion – May 30, 2021

Orientation Session – June 4, 2021; Time 9.00 to 11.00 am, IST

COURSE 1 | BUSINESS MODEL INNOVATION (16 Hours)

Virtual Delivery – 4 Days; Dates June 15 to 18, 2021; Time 9.00 am to 1.00 pm, IST

In this course, participants would identify and validate innovation opportunities with least possible risk.


COURSE 2 | BUSINESS EXPERIMENTATION USING DESIGN THINKING (15 Hours)
Virtual Delivery – 5 Days; Dates July 12 to 16, 2021; Time 9.00 am to 12.00 pm, IST

In this course, participants engage in applying Design Thinking methods and mindsets to design, develop and test select innovation hypotheses with a small sample of customers and stakeholders.
For Participants attending both the course to earn the Certificate of Completion

Business Challenge Review with Lead Facilitator
Book your 60 min slot between June 21 – 25, 2021


1-on-1 Mentor Q&A
Book your 30 min slot between June 28 – July 2, 2021


Peer Group Meetings (one per week)
40~60 min at mutual convenient time between June 21 – July 2, and July 19 – 30 2021


Submission of Capstone Report
Any time after course completion, no deadline, on submission of the report the certificate with awarded
Download Program Brochure for complete course details

FOR WHOM
The Program is specifically designed for SME Business Leaders, Growth Stage Entrepreneurs, Venture Builders, Intrapreneurs, and Sr. Business Strategy Professionals.

Business and Venture Leaders registering along with their core team will benefit from implementing their learning together. Individual participants could team up with others and co-create their learning journey and experimentation.

Note: It is a high engagement and Application Oriented Program, with a maximum batch size of 20 participants.


REQUIREMENTS AND TOOLS
The Program is delivered using MURAL, a virtual collaboration platform and Zoom, for audio and video collaboration.

For efficiently working virtually, participants are expected to have uninterrupted Hi-Speed Broadband Internet connection. Stable 4G connection would work most of the time.

This is a VIDEO BASED Program, involving breakout sessions and high intensity collaborative activities on a Mural board, so camera needs to be ON, while we understand sometimes participants might have to switch it off due to network and bandwidth fluctuations.

Completion Requirement
All participants will be provided a "Certificate of Completion" on minimum 90% Attendance on both courses and submission of an application assignment akin to a mini project.

All other participants will be provided "Certificate of Participation" for the respective courses attended.

REGISTRATION
1. Apply Online – Last Date May 30, 2021
2. Application Review and Email Invitation for Payment
3. Admission confirmed on receipt of payment


INAUGURAL BATCH FEES
Application Fee: Rs. 750, ZERO
Rs. 90,000 Rs. 45,000 + GST per person if registering for Both Courses
Team/Group Registration (4+ members) – 10% Discount

Rs. 45,000 Rs. 25,000 + GST per person if registering for any One Course
Team/Group Registration (4+ members) – 10% Discount

FACULTY

We also offer a BESPOKE COMPANY PROGRAM
Business Design and Growth – RoadMap Development
This is a bespoke contextually designed program for the entire leadership team of a business unit or organisation. The Program objective is to facilitate leadership conversations, brainstorms, alignment, to co-create the business growth roadmap. It can be delivered virtually or a mix of in-person and virtual sessions.

CONTACT US
Dept. of Entrepreneurship and Management
Indian Institute of Technology, Hyderabad
Kandi, Sangareddy, Telangana, India. 502285
mdpcoordinator@iith.ac.in +91 8169962822
Download Program Brochure